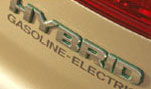 Automobiles
INTRODUCTION
Automobiles are responsible for a considerable chunk of the air pollution, especially urban smog, that we must contend with in our environent. There are alternatives to that monstrous SUV. Check it out!
TOPICS
ENERGY EFFICIENT HYBRID CARS
Energy efficient cars with hybrid gasoline-electric engines appear to be gaining in popularity in 2007. There were only three hybrids available when we looked for one in 2003. Honda made the Insight and a hybrid version of the Civic, and Toyota, the Prius. However, the number of hybrids is expanding at quite a clip.
Hybridcars.com maintains a web page that tracks the available and planned hybrids.
Yahoo has a
Green Ratings
auto page, also.
Honda
was the first automobile maker to come out with a hybrid vehicle, the Insight. This two person vehicle gets the best mileage of all of the currently available hybrids. This is great for the individual who wants maximum mileage in a sort of geeky looking vehicle. However, for those of us that need to transport children, this is not an alternative. More kid-friendly hybrid autos became available several years back, including the
Toyota
Prius and the hybrid version of the Honda Civic. More recently, a range of cars and SUVs have become available. For help in determining which hybrid is right for you,
click here to access the HybridCenter.org website
run by the
Union of Concerned Scientists
. Therefore, those of us who are environmentally conscious should vote with our pocketbooks.GO AHEAD! Get a hybrid today!
4-WHEEL DRIVE ALTERNATIVES
RELATED LINKS ON HYBRID CARS
USING BIODIESEL FUEL
Vegetable oil can be converted to a fuel that can be used in diesel engines, referred to as biodiesel (
Click here for explanation from "Ask Umbra" column
). Alternatively, "straight vegetable oil" or SVO can be used if the diesel engines have undergone modifications (
"Ask Umbra" explains
).
Presently in Philly, the land o' cheesesteaks, a research-sized biodiesel facility is being constructed by the
Philadephia Fry-o-Diesel
company. This is a company set up by
Renewable Energy Alternatives
, a non-profit organization, that advocates for clean energy. Also in Philly, John Ciccone is selling blends of ethanol and biodiesel at his Sunoco gas station at 12th and Vine.
CAR SHARING
If you live in a city and don't use the car that much, then why not kick the habit and share. Thanks to internet, car sharing is a practical reality. For example,
Philly Car Share
, and programs like it in other cities, provides a means to get about town without the hassle of the infamously huge Philly insurance premium. Check it out!
FUEL CELLS - THE FUTURE!
AUTOMOBILE POLLUTION
The
Environmental Defense Fund
has retired its Tailpipe Tally, but gives some
alternatives
quoted below:
For one-stop shopping, use the
Green Ratings on Yahoo! Autos
. This unique rating system, developed in partnership with Environmental Defense, scores new makes and models according to their overall pollution, including global warming pollution. The Green Ratings are given along with price and other vehicle specs, making it easy to identify the greenest models that meet your other requirements.For additional information, see the US Department of Energy's
Fuel Economy website
.
Environmental ratings for some recent model years can be found on
Greenercars.com
, a by the independent research group American Council for an Energy-Efficient Economy (ACEEE). It's Green Scores are similar to the Yahoo! Green Ratings, though scaled differently, Greenercars.com gives highlights of the "greenest" and "meanest" recent models free, and a subscription gives access to even more information.